Cable tie for reopening
Product group A01.02
Features:
For quick and reliable bundling of cables, cable looms, hoses, etc.
Does not become brittle or porous at low temperatures
Resistant to oils, grease, fuels and many other organic materials
Absolutely secure lock
Long service life
Operating temperature: -50 °C to +100 °C.
Minimum tie resistance: 265 N / 27 kp.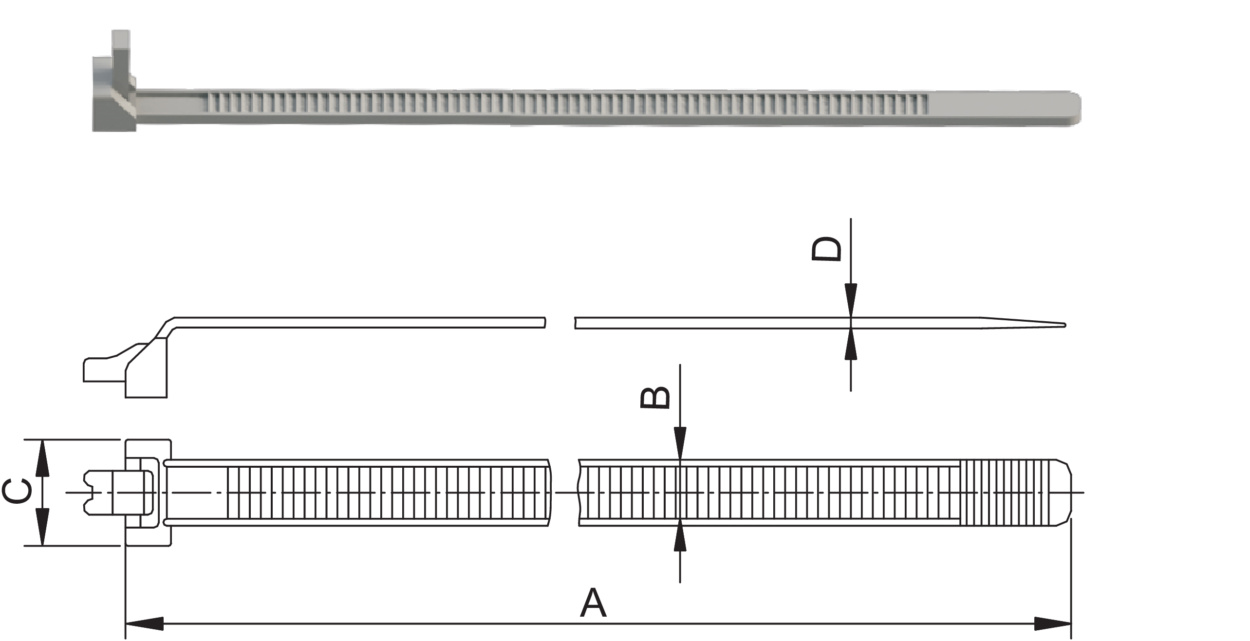 | IMS Part No. | B | A | C | D | LoomØ | Material | Colour | Product description | Quantity / Add to wishlist |
| --- | --- | --- | --- | --- | --- | --- | --- | --- | --- |
| 120008200 | 2.80 mm | 126.00 mm | 6.00 mm | 1.20 mm | 11.00-26.00 mm | PA 66 | Black | CABLE STRIP 126 X 2,8 MM PA 66 BLACK | |
| 120009500 | 2.80 mm | 138.00 mm | 6.00 mm | 1.20 mm | 26.00-28.00 mm | PA 12 | Black | CABLE STRIP 138 X 2,8 MM PA 12 BLACK | |
| 120009510 | 2.80 mm | 163.00 mm | 6.00 mm | 1.20 mm | 35.00-37.00 mm | PA 66 | Black | CABLE STRIP 163 X 2,8 MM PA 66 BLACK | |
| 120009520 | 4.00 mm | 97.00 mm | 8.50 mm | 1.20 mm | 6.00-20.00 mm | PA 66 | Brown | CABLE STRIP 97 X 4,0 MM PA 668 BROWN | |
| 12002009B | 7.00 mm | 100.00 mm | 11.00 mm | 1.50 mm | 8.00-20.00 mm | PA 12 | Black | CABLE STRIP 100 X 7,0 MM PA 12 BLACK RE-OPENING | |
| 12002009C | 9.00 mm | 140.00 mm | 14.00 mm | 1.50 mm | 10.00-33.00 mm | PA 12 | Black | CABLE STRIP 140 X 9,0 MM PA 12 BLACK | |
| 12002009D | 9.00 mm | 250.00 mm | 14.00 mm | 1.50 mm | 10.00-70.00 mm | PA 12 | Black | CABLE STRIP 250 X 9,0 MM PA 12 BLACK | |